(One intermediate revision by the same user not shown)
Line 1:
Line 1:
 
+

[[File:CurtisHanson.jpeg|thumb|right|250px]]

−

'''Curtis Lee Hanson''' was a screenwriter, producer, and director from the United States. He directed the psychological thriller The Hand That Rocks the Cradle, the neo-noir crime film L.A. Confidential, the comedy Wonder Boys, the hip-hop biopic 8 Mile, the romantic comedy-drama In Her Shoes, and the made-for-television docudrama Too Big to Fail. Hanson won the Academy Award for Best Adapted Screenplay in 1998 for co-writing with Brian Helgeland the film Confidential. He belonged to the Directors Guild of America and the President's Committee on Film Preservation.

+

'''Curtis Lee Hanson''' was a screenwriter, producer, and director from the United States. He directed the psychological thriller The Hand That Rocks the Cradle, the neo-noir crime film L.A. Confidential, the comedy Wonder Boys, the hip-hop biopic 8 Mile, the romantic comedy-drama In Her Shoes, and the made-for-television docudrama Too Big to Fail. Hanson won the Academy Award for Best Adapted Screenplay in 1998 for co-writing with Brian Helgeland the film Confidential. He belonged to the Directors Guild of America and the President's Committee on Film Preservation.

 
 
 

He died at the age of 71 from natural causes in his Hollywood Hills home.

 

He died at the age of 71 from natural causes in his Hollywood Hills home.

 
+

==Carrer==

−
 
 

Hanson directed "The Dunwich Horror", a film adaptation of H.P. Lovecraft's short story. In 1973, he wrote and directed Sweet Kill, a film starring Tab Hunter. He wrote and directed The Silent Partner, starring Elliott Gould and Christopher Plummer in 1978. In Her Shoes, Wonder Boys, 8 Mile, and Lucky You were among his later works. Hanson directed Too Big to Fail in 2011, based on Andrew Ross Sorkin's 2009 book of the same name about the beginnings of the 2007–2010 financial crisis.

 

Hanson directed "The Dunwich Horror", a film adaptation of H.P. Lovecraft's short story. In 1973, he wrote and directed Sweet Kill, a film starring Tab Hunter. He wrote and directed The Silent Partner, starring Elliott Gould and Christopher Plummer in 1978. In Her Shoes, Wonder Boys, 8 Mile, and Lucky You were among his later works. Hanson directed Too Big to Fail in 2011, based on Andrew Ross Sorkin's 2009 book of the same name about the beginnings of the 2007–2010 financial crisis.

 

==External Links==

 

==External Links==
---
Latest revision as of 09:26, 21 June 2021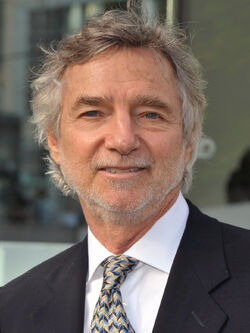 Curtis Lee Hanson was a screenwriter, producer, and director from the United States. He directed the psychological thriller The Hand That Rocks the Cradle, the neo-noir crime film L.A. Confidential, the comedy Wonder Boys, the hip-hop biopic 8 Mile, the romantic comedy-drama In Her Shoes, and the made-for-television docudrama Too Big to Fail. Hanson won the Academy Award for Best Adapted Screenplay in 1998 for co-writing with Brian Helgeland the film Confidential. He belonged to the Directors Guild of America and the President's Committee on Film Preservation.
He died at the age of 71 from natural causes in his Hollywood Hills home.
Carrer[]
Hanson directed "The Dunwich Horror", a film adaptation of H.P. Lovecraft's short story. In 1973, he wrote and directed Sweet Kill, a film starring Tab Hunter. He wrote and directed The Silent Partner, starring Elliott Gould and Christopher Plummer in 1978. In Her Shoes, Wonder Boys, 8 Mile, and Lucky You were among his later works. Hanson directed Too Big to Fail in 2011, based on Andrew Ross Sorkin's 2009 book of the same name about the beginnings of the 2007–2010 financial crisis.
External Links[]