Jurassic World: Dominion Dominates Fandom Wikis - The Loop
Play Sound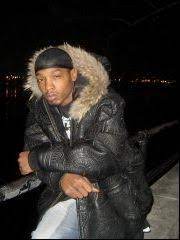 Gerald L. Sanders or known as Strike is a rapper who played Lyckety-Splyt in 8 Mile, he was part of the early 2000s rap group The Mountain Climbaz.
Background on 8 Mile

[

]
According to Eminem News, Eminem wanted to stay as true and authentic as possible in 8 Mile. It meant he would be confronted in all his battles by real rappers, actual MCs, who at that time were often wrong. It was necessary to save Strike himself from prison, Eminem uses his money to bail a rapper out of a jail, He cast a number of local Detroit emcees to compete with him in the film's competition scenes, but Sanders,, reveals he nearly missed out on the opportunity to work with Eminem on camera after ending up behind bars, to even appear at the scene of the fire. He recalled later that:
"It was funny because I was on the run from the feds at that time. When we pulled up to the [auditions], we actually thought it was the feds. At that time I was in the streets, carrying guns. My manager was like, "If they try to arrest you, I'll shoot in the air, you run!" [Later,] Em done bailed me out on my attempted murder case. Proof went to him to get the money for that."[1][2]
Allegations
[
]
Sanders was accused of running a fraudulent business in which he hired inner-city kids to go door-to-door selling magazines, clothes, and pet accessories. Miller claimed Sanders instructed his employees to mislead potential customers by falsely claiming that their money was donated to charity. In a statement, Sanders defended himself, saying, "What's important to know is that I did not send people into the neighborhood to defraud people."</>
Documents were released on Wednesday (June 16) that reportedly show Sanders agreeing to stop doing business in Iowa with his Inner City Solutions, which is based in Atlanta. He will also not be pursued for any future fines, Gerald Sanders believes he was blackmailed into signing the agreement.[3][4]
According to Miller, Sanders' organization did not obtain a sales license for door-to-door operations and did not register as a fundraiser. Sanders reacted angrily to Miller's claims, claiming that officials told him, "We could go after you for these crazy amounts, but if you sign this paper saying you'll never come back to Iowa, we'll leave it alone." According to reports, Sanders agreed to forego fines and penalties related to the fraud allegation in exchange for shutting down his Iowa operation.[5]
Carrer
[
]
He appeared in other films and played "Five Thirteen" in 2013 and "American Sharia" in Malcom X in 2015. But, according to media reports, his turn to star "8 Mile" has almost never happened, He told XXL Hip Hop magazine, "I was running from the feds at that time," when he went to the audition.
References
[
]