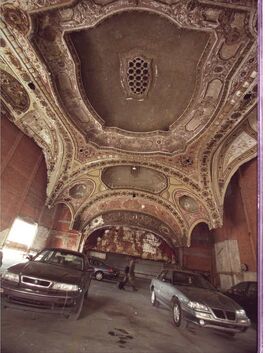 Parking Lot or known as Parking Garage and officially Michigan Theater is the  elaborate parking garage where 313 crew battles rival rappers from Tha Free World. The Michigan Building is located at 220 Bagley Street and Grand River Avenue.
The Michigan Theater's auditorium was demolished in 1977 to make way for the parking garage. The interior's gritty opulence has attracted film makers such as the director Curtis Hanson, who has left the ceiling and proscenium arch intact.[1]
History
[
]
Built in 1926 as the 4000-seat Michigan Theatre, an opulent concert hall-movie palace, it followed the fate of many fading grand theatres, becoming a nightclub before closing in the mid-1970s. Unlike most of those theaters, however, the structure was gutted to make way for parking for offices on the floors above. Its photogenically decaying plasterwork appears once more on the big screen in Michael Bay's sci-fi thriller The Island.
Trivia
[
]
The "Parking Lot" scene was filmed at 9 p.m